Standard
IEC 60884-1 2013 clause 23.4 , UL817, VDE0620
Application
This device is used for testing the flexing properties of non-rewirable plugs (terminals) and non-rewirable portable socket-outlets. It is suitable for inspecting the fatigue strength of the power cable and jacket.
Test Sample
Non-rewirable plugs and non-rewirable portable socket-outlets
Feature
The speed reducing motor controls the crank sliding block structure to complete the reciprocating motion, the left and right flexing angles are adjusted by manual scale, and the automatic angle adjustment touch screen model can be customized.
Tester will automatically shut down when preset test time is completed.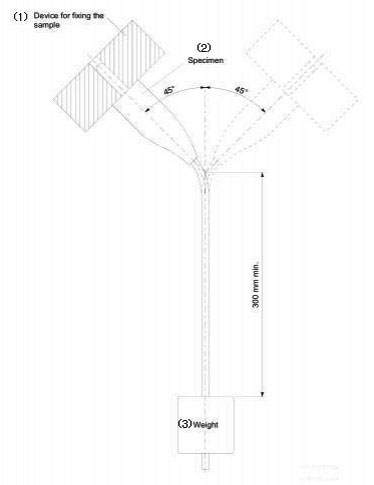 (1) Device for flooing the sample, (2) Specimen, (3) Weight
An adjustment of the different supports for the accessories is completed by a threaded spindle according to the explanation in 23.4
Parameters
1. Power supply: AC220V 50Hz
2. Flexing angle: Swivel angle on either side for 45° , 60°, or 90°. Adjustable
3. Flexing rate: 10~60rpm (frequency conversion), the default 60 times /min
4. Weights: 20N, 10N. 6 each(UL 113g and 284g weights can be customized)
5. Test station: 6 stations, with 6 sets of clamp device
6. Test times: one general counter, 6 individual counters. 0~999999 preset
7. Mechanical theory: The crank block on the reduction gearbox is driven by the electric motor to complete the reciprocating action.
8. Cord broken indicator: Φ25 red indicating light
9. Dimension: L1000mm*W500mm*H1100 mm