Technical specification (Customized service is available)
Testing object
Automotive air conditioning compressor
Vacuum pump dimension
Large pump (quantity:1) 350mm*450mm*300mm (L*W*H*)
Small pump (quantity:3) 300mm*450mm*300mm (L*W*H*)
Vacuum pump quantity
1(large pump)+3 (small pump)
Tracer gas
20% helium
Pressure for helium leak test
3.0Mpa (or lower than 3.0 Mpa)
Pressure for gross leak test
3.0Mpa (or lower than 3.0 Mpa)
Leak rate:
1g/year (R134a)
Cycle time
30s/pcs (including the handling time)
Helium charging time
Longer than 70s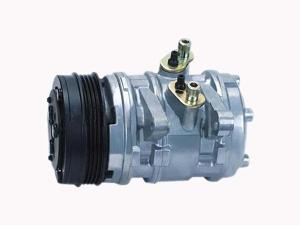 Application:
The compressor helium leak detector is mainly designed to deliver gas tightness test for automatic air conditioning compressor. But it could also be used to detest the refrigeration compressor for household refrigerator and air conditioning. With the leak detetcor, air tightness level for testing objects is well guaranteed, and the leakage of horizontal substances will be well avoided.
Working principle and structure:
In accordance to the basic principle of helium leak detection, we adopt helium, as the tracer gas. After charging helium into the testing object within vacuum pump, the helium leak detector will be adopted for leak testing. The testing method features high precision and fast detection.
The compressor helium leak detector is equipped with four vacuum pumps. After placing the testing objects within vacuum pump, and connecting it with the coupling, the door will be closed. After that, a comprehensive array of processes will be automatically delivered, including gross leak test, strength test, evacuating, helium charging, micro-leakage test, helium recovery and etc. The system features fast cycle and high testing precision.